Post by yoflaco on Jul 7, 2020 6:22:29 GMT -6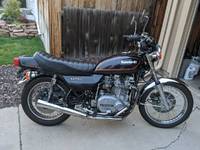 The goods:
1979 Kawasaki KZ750 B4
, vertical twin cylinder motorcycle , 22000 miles, garaged most all its life in dry Colorado, VIN clean, legal and clear titled, had two previous owners, both friends. Not rusted or busted up bike- 750cc vintage fun dependable and strong, cruises happily around 5-6k rpm with more throttle if you need it. Redline is at 8k rpm, though I haven't pushed it there myself, ride handles fairly well and is a solid bike overall for making into an even sweeter custom if you so desire.
Bike is still stock, minus the aftermarket 2 into 1 exhaust, and seat.
Is wearing new stock sized rubber tires with lot of tread left, has a new strong battery, new(ish) chain, the electrical contacts and etc are now all cleaned and bike still charges finely, no rust in gas tank, happy purr when throttle is open and bike is in motion.
This vintage bike I've been wrenching on a bit during covid-19 quarantine and got into better running condition than when I got it; not looking to invest too much more time and money myself as I'm still focusing on a BMW project...so hoping to find a local buyer as I think this is a great bike for the riding in our region. LOVES pinto canyon 2810 sunset cruises! (just watch out for rabbits when you go 80mph

)
Still needs a little more TLC and continuous wrenching, but everything does in time... it IS over 40 years old so don't expect a showroom queen, and do expect to do some wrenching yourself (its fun to learn.) Still looks amazing for its age however from 10 feet away, runs great, fairly loud and proud exhaust notes, and increasingly rare as the years go by, but plenty of parts and custom builders doing rad things with this platform. You could be next!
more tlc/recommendations I've noted- brake lines and master cylinders could use overhaul, gas tank has two small dings, one each side, clean up and powder coat frame for even better stock look, minor touch up painting of pin stripes and etc, eventually head gasket will need attention as has minor leak, maybe add LED lights for safety...
hit me up if serious/ make offers David H
[email protected]